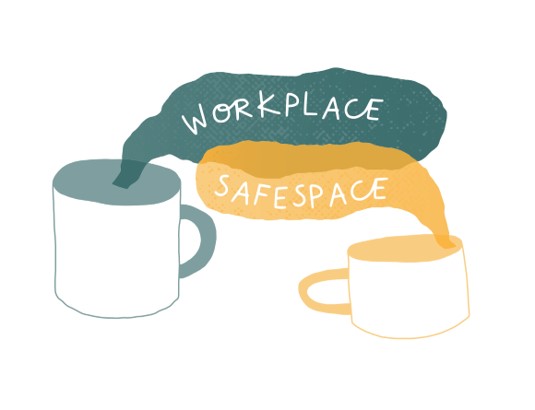 Join the Workplace Safespace training and become an 'employer of the future' who is committed to tackling Domestic Abuse.
Domestic Abuse has drastically increased during the multiple lockdowns and employers have a responsibility to keep their staff safe. For people experiencing abuse, work is often seen as the only place of sanctuary, safety and resources. It's so important that co-workers, managers and supervisors understand how to best support their colleagues who experience Domestic Abuse because it can save lives.
Join the Workplace Safespace training and become an 'employer of the future' who is committed to tackling Domestic Abuse. Learn the different ways to ensure your co-workers live a life free from abuse, whether they are based in the workplace or Working from Home (WFH).
What is Workplace Safespace?
With huge thanks to Hillingdon Council, London Community Foundation Trust and The Ministry of Justice (MoJ) COVID-19 Extraordinary Funding, two specialist organisations have joined forces to create an in-depth training programme about how employers can prevent and tackle Domestic Abuse. Running since August 2020, the project has trained over 200 employees, across almost 50 different organisations. This means that over 14,000 employees are now able to access workplace support if they ever find themselves in an abusive relationship.
This partner-led initiative is made up of experts from Hillingdon Women's Centre, The Sharan Project and Hillingdon Council. With over a decade of experience in dealing with these issues, people that sign up to the training really are in good hands. Each part of the Workplace Safespace project is fully funded and there is no charge at any point.
The programme is aimed at employers based in London, especially for those based in Hillingdon and surrounding areas. With the project closing by the end of 2021 , we urge you to sign up and reap the benefits of this training. To register your interest, you can fill out this form here. 
Why should employers sign up?
86% of HR leads agree that employers have a duty of care to provide support to their staff who are experiencing abuse. Similarly, a recent survey by business in the community indicated that employers understood there was a business case for supporting employees facing Domestic Abuse. However, only 5% of organisations have got specific guidelines on the issue. 
We are confident that we are on the cusp of real change and in just a few years time, all organisations will have internal Domestic Abuse policies. By signing up to the training now, you'll be one step ahead of everyone else.
As staff members continue WFH, or as they move into a hybrid way of working, it's imperative that they feel safe at home, in order to complete their work successfully. Employers should have procedures to make sure staff can work safely at home. By signing up to Workplace Safespace, you'll learn exactly how to do that.
You'll also be shown how to identify potential Domestic Abuse warning signs, you'll be given toolkits and guides which discuss the best way to manage sensitive disclosures. You'll be taught to follow the simple 3 step process of ACKNOWLEDGE, RESPOND & REFER when dealing with an employee who is facing Domestic Abuse. 
As part of the training programme, you'll be invited to sign up for the consultation session where consultants will work with you to create, or update, Domestic Abuse policies. They will also support you in setting up your very own physical or digital safespaces.
Domestic Abuse is everybody's business and we ALL must do our bit to prevent and tackle all forms of it. 
To register your interest, you can fill out this form here.